A few posts ago, i talked about the new addition to my crazy life.
Yup my Silhouette Cameo.


For those who are unfamiliar with this item here is the official spill from the website
"The Silhouette CAMEO™ is an electronic cutting tool for personal use. Like a home printer, it plugs into your PC or Mac® with a simple USB cable. However, instead of printing, the CAMEO uses a small blade to cut your designs into a wide array of materials."
Many of you asked me to post a tutorial or show an example of something i made so far. So here it is!

The tool comes with software you load onto your laptop and you can design anything you want for the machine to cut.
I chose to do a starwars design.*


* Dear Mr George Lucas, this was for personal use only so please do not sue me.
I cut out some freezer paper to fit the machine. [Thanks labbit for lugging it all the way from USA to Tokyo for me]


Remember to stick the freezer paper on the sticky mat [SHINY SIDE DOWN] If you prefer to put it shiny side up, remember to mirror your design.
*For those unfamiliar with freezer paper, try googling Reynold's Freezer Paper. Bascially its paper with a waxy plastic coating on one side. Using a low temp iron, this coating will melt and adhere itself to whatever u are ironing it too. However its easy to peel off later [kinda like a post-it note[
All cut


*I used vellum settings on my cameo.
I bought this from Amazon.com whilst i was in LA for a holiday [ahaha i had it delivered to my hotel]


it seems totally useless at first but once u start using it, you'll be like..wow this is pretty useful XD
I picked out the exccess so you can see the design that got cut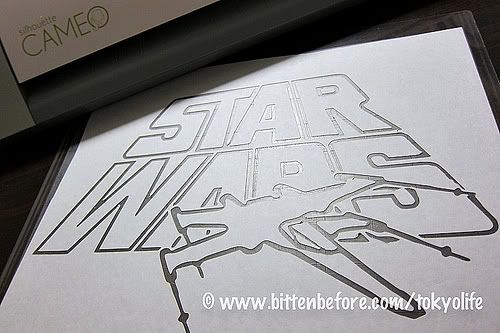 Iron onto the fabric of choice [low temp iron]


Since it was my first try on the machine, i chose not to do a super intricate design. Hence transfering the pieces wasnt hard XD
Paint with fabric paint

Speaking of fabric paint, lookie what i bought in LA


Yah i am a huge martha stewart fan. i have been lusting over these for ages. [since i saw them in blogs and magazines]
So i stocked up when i visited LA for a holiday last month XD


Now i wish i brought more home XD
Oh yes back to the tutorial, once the paint dries,peel off the freezer paper to reveal the design.
Then i heat set it with an old cloth and low temp iron.
Finally, i sewed it into a drawstring bag.


If you dont have a silhouette cameo, you can do this easily with just a xacto knife 😀
Its a public holiday in Japan tomorrow so i'll try to post 3 times this week instead of two 😀
Have an awesome week ahead!!
XX yumeko
p.s what did u get up to over the weekend?
I spent most of the weekend with friends celebrating St Patrick's Day


Clockwise from left: Bath and Body works Hand Sanitizer [bought a bunch of these as gifts for our St Paddy's Day Brunch] , Tea Towel i bought in Joann's [also from LA] and keylime pie i made for the brunch.
p.p.s p.s if you have a facebook account, could you "like" my page? I would really appreciate it and would love to hear from anyone of you there too! xx
[widgets]