If you travel a fair bit, you'll probably have the same problem as me.
You end up with currency and store cards from all over the place. And there is not quite enough cash to change at the bank either.
Also you probably want to keep some since you might be going back again.

So how does one store them?
Here's how i store mine! In a custom made multi-pocket pouch.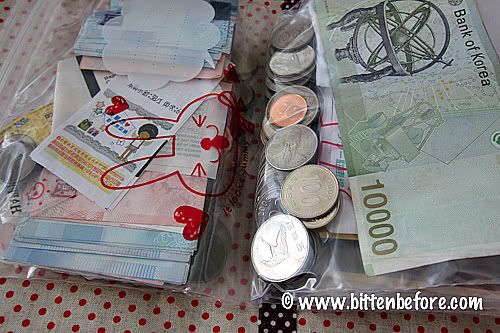 Wanna make your own?
Its a super easy diy project.
First up, you will need storage bags.
I love these bags. There i said it. And i only like the ones with a slider. Is that strange? [so sad that they cost more]


In an effort to make my bags more useful [ie use it more than once], i decided to use them in my latest diy project!
Since i was using them in a DIY project, i thought i would splash out and use the slightly cuter looking bags


I bought these from Daiso in case you wish to know.
Step 1. Gather the number of bags you need. I opted to use 10 since thats all i had left in this box of 16 bags.

Step 2. Grab a place mat roughly 2.5times the length of each bag.

Step 3 [optional]. If you cannot find a place mat, make your own like me. You can add pockets too! [Also optional]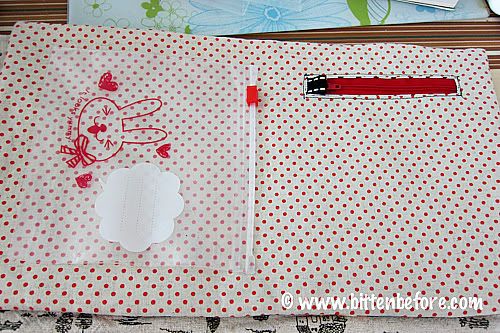 Step 4. Layer the bags. Five on each side overlaying in the middle. However do not stack them on top of each other where the zip sliders are else you'll end up with a super bulky pouch.

Step 5. Use whatever machine stitch you have to secure the bags to the middle of your placemat. I used 3 zigzag stitches.

Step 6. Add velcro to the sides of the placemat. Use stick on velcro if you are lazy [like me]

Step 7. Cover the zigzag stitches with some ribbon. Sew down. Alternatively use fabric tape [once again, if you are lazy like me XD]

You are done! Now you have your very own multi pocket pouch!! 😀 And its waterproof too [well the bags are. But if you used a plastic placemat, it would be waterproof…just saying XD]


You can use this for TONS of other things.
Emergency first aid kit? Travel kit? Survivor Kit? Travelling with Children Kit? Snack Kit? Makeup kit? Airplane Travel Kit? Toiletries?
Not only that, you could change up the sizes of the ziplock bags used so you can have a different sized pouch 😀
Hope you give this project a try!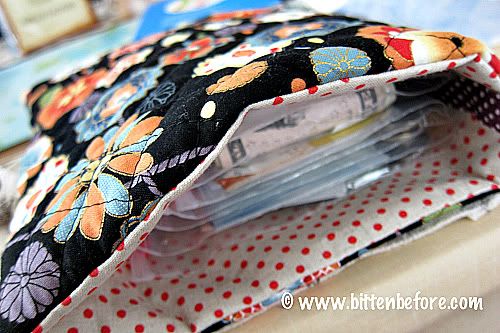 Let me know how you go ok?
Disclaimer: whilst i would like to claim i came up with this awesome idea myself, i cannot XD I first spotted the usage of ziplock bags in a craft in this post here on the official Ziploc bag website.
XOXO Yumeko