Longtime readers of this blog will know i have really dry skin [not on my face but on both my arms and legs] and come winter..its a disaster zone. I have tried all kinds of body lotions/creams/gel from big and small brands but nothing has really worked.
So one late night, whilst surfing on etsy [what's new] i saw a few stores selling lotion bars. The idea of carrying a bar of lotion rather than having to rub cream/lotion with my hands constantly seemed to be a no brainer! I knew i had to get myself some.
But was i going to wait 14 days in the christmas rush season to get my lotion bars mailed from USA? Nooo..let's make some!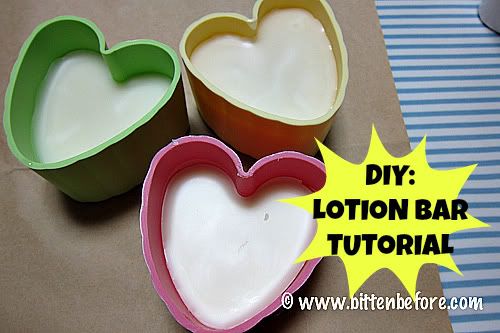 Yes its a tutorial!
These are the items i purchased!


I looked around online for a recipe [many sites, try googling] and here's what i discovered
The basic lotion bar recipe requires equal parts of
1. An oil [olive oil, coconut oil, almond oil, avocado oil are all possibilities]
2. Pure body butter [shea butter, cocoa butter, mango butter etc]
3. Beeswax [filtered, white, whatever] <– try to buy it in pellets, will be easier to melt. if not just cut or shave the one you have into little pieces.
Here's what i chose to use


100ml of Coconut Oil
100g of Mango Butter*
100g of white pure filtered beeswax
*i chose to use mango butter as it is the only one without any scent. Cocoa Butter smells like chocolate which i dislike greatly. Shea Butter and Cocoa Butter are probably cheaper and easier to find though. You can use the same type of butter or a combination. Just as long as it makes up 1 part [ie same amount as oil and beeswax]
You will also need containers to pour your completed lotion solution.


I chose to buy deodeorant style containers and lipbalm tubes. You can also pour it into silicon molds etc.
Actually the main reason i decided to make my own is because i wanted to pour them in deodorant style containers.
I need to reapply very often but i almost never do as i cant get my hands greasy constantly [believe it or not, i do work for a living]
Add all ingredients into a metal and place above a pot of boiling water [double boiler]


Take care the water doesnt touch the metal bowl.
Melt on low heat till it all melts. If you are confident, you can do this in a microwave instead.


Around now, the husband is wondering if i am making something him a chocolatey treat. Sadly i was not hahahaha
Prep and disinfect your containers by washing your containers in boiling water and leave to dry.

Pour the melted solution into your containers


For the smaller containers, i used a pipette.
They harden almost immediately. [ok maybe 1 min?]

The recipe can be used as lip balm as well!


I really like these lip balm containers as they have a clip on the lid [you can clip to your bags or phone or keychains]
If you chose to use silicon molds, please remember to wrap them in cling wrap tightly after de-molding [when not in use]


These lovelies will melt in heat so please keep them out of direct sunlight and store in a cool place. [Esp for those of you who live in a hot climate]
The amount i got out of this batch


To use:
Just rub it on yourself.
Your body heat will melt them slightly and create a lovely smear of lotion/moisturizer on your skin.
If you used a deodorant mold like i did, you dont even have to get your hands greasy!
UPDATED:
I made this batch two months ago [before i went to Sapporo for a holiday where it was snowing daily]
And it has been amazing. My eczema is almost clearing up and i even used one of the heart shape pieces on my heel. Guess what? My super cracked heels have healed overnight. I've since gifted half my batch to many different friends and they have all reported amazing results so make more and gift them to your friends!
Any questions? Let me know!
Hope you try it out and keep yourself moisturized this winter :D!!
XOXO Yumeko
[widgets]
p.s
For those wondering, this is where i bought all the supplies i used ie the containers AND the ingredients. [For those visiting from pinterest or new to my blog, i am from/based in Japan]


However it was quite costly [prices are just high in Japan XD]
So i am certain you will be able to find something cheaper/better in your area [google is your friend!]
Good luck!
SEE MORE TUTORIALS HERE